Maneater: Truth Quest DLC – Is it worth it?
Manateer It was a little light on the content when it was launched. What is more than content I did It was very repetitive and frankly, mostly filler. Nearly 16 months after release, the game is getting some DLC that expands the title with a new area, new enemies, and new and mutagenic developments. It does add a few more hours of content and a good deal of relaxed narration from Chris Parnell, so I was hoping to see some content that Shark Mayhem fans can sink into. This is definitely more Manateer, but the question arises: is the Truth Quest DLC worth it?
Just like the main game, Truth Quest doesn't have much of a story. The narrator returns, this time overly focused on the conspiracy theory that insects threaten to take over the world. Everything he sees is something that he takes as proof. The narration is still fun, but it doesn't have any bearing on anything. The actual plot concerns the sharks heading to a new area called Plover Island, where radioactive marine creatures appear. It's up to you to locate the radioactive crested creature driving the pack and set it up for good.
The creation of a new area with new enemies and the like could have been used as an incentive to make Truth Quest at least more convincing than the main game. Rather, this is more than that Manateer, for better or worse. There are new points of interest, license plates, and a cache to find. You'll also find a few new sea creatures, along with five new nefarious levels. But the structure looks just as empty as before. You enter the area, you go to a sign, you eat ten sailors, you crash something, you fight a creature, yada yada. Again, there aren't any actual assignments, nor is there any content that appears to be handmade or unique. It's all the same things as before.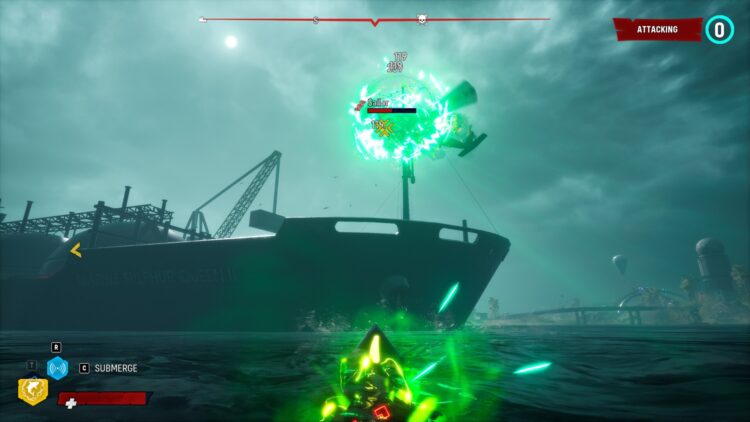 The shark is back to doing the same things again
At first, it looks like Truth Quest might be going better than it ends up being, but at some point in the 'campaign' your task is simply to make the Infamy up to five and kill all the big hunters. The good news is that there is a new development that makes this take anywhere from 30 to 45 minutes. Each part of the shark's body gets a new atomic difference, which is irradiated. Stacked, give a boost to damage. Most of these parts are not significantly different from the others.
what or what He is Different is the evolution of the body, which gives the shark a new activity that allows it to charge and release radioactive projectiles. Once you get this, Manateer It was completely stripped of anything you could call a challenge. You swim to the surface, poachers carry on you, blast everything into hell, dive deep and eat until your action is ready again, then more things explode. Even Hunters and the last head of the Truth Quest were collapsing in front of the power of this collapsing ability. Honestly, I appreciated, the wanton destruction and complete lack of balance or challenge amusing to me.
On top of that, you get a new mutagen slot and some new mutagens, like the ones that let you regenerate health. However, things get a lot more similar after the infamous ranking elements, where you are taken on a pointless guided tour of the main game area where you do little more than follow the signs before facing another peak. It's an absolutely unnecessary feeling. if you like Manateer And I simply want a few extra hours of it, that's the only reason Truth Quest DLC is worth it. Otherwise, this is just more subtle stuffing and trying to walk along the strength of its premise and general gameplay mechanics.