I'm still dying in Cyberpunk 2077 because I refuse to compromise on fashion
Night City is where you can easily upgrade your face and buy a beer. Maybe you will get some new weapons while shopping for new shirts. With enough cash, you can look however you want. Or so the holiday brochures say. In fact, it's hard to look good Cyberpunk 2077, And in my quest to be stylish, I repeatedly put myself in harm's way. It was done for fashion.
Things started fine, too. The mix of trends and cultures both real and imaginative has blessed Night City with a bold sense of style reflected in the flashy clothes adorning its citizens, and instantly my version of V, the street kid, looked good. She was wearing cool sneakers and silly gold pants, and what does anyone need the most? Unfortunately, Cyberpunk 2077 is the equivalent of an RPG trend that makes you look gradually cooler, instead you start looking cool and then increasingly make you look like a giant idiot.
CD Projekt Red tried to marry a very traditional RPG gear system built for armor with everyday wear, and it doesn't work. Each item, whether it's a scarf or an actual piece of armor, gets a shield value that mostly depends on its level. As you level up, you start looking for higher level shoes and suddenly you have to replace a Kevlar jacket with a silk shirt because it has larger numbers. The shield's value has nothing to do with the elements themselves, and any other quirks they possess come from modifications.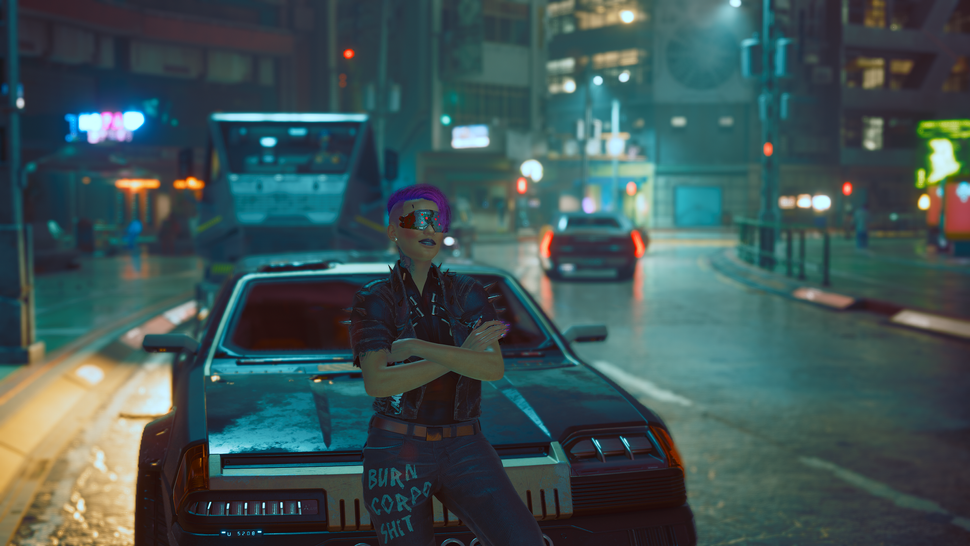 Some gear was designed around bands, like Maelstrom's sportwear above, but I quickly ended up with a stockpile full of the totally random thing. For every such jacket with a T-shirt, I would find three Fedoras that didn't go with anything at all. Individually, most of the things you have collected over the past 50 hours look good (not including Fedora), and when assembled, the group competes easily with any other RPG game, but finding things that match in this frustrating bitter reality comes down to RNG. Very fickle. Whenever you find a decent set, something better technically just looks like a clock.
My time with Mad Max Extra was short-lived, and the aftermath was just disaster after disaster. It's a good thing that everyone at Night City runs their business over the phone, because there's no way for anyone who looks like this to get serious business. Just based on the stats, it will always look like you lost a bet.
It's possible that a few of you are now wondering why this is a problem with an almost first-person game. Or maybe you just care about numbers. Fashion is damned, you want that shield. For me, though, the rad look is just as much driving force as any other progression system, and especially in a game where calm is so important, it's one of your five traits. I also ride that sexy Akira bike and walk around the photo pose all the time, so I have to see all these horrible outfits wrapped above my unfortunate mercy a bit.
In the end, I am faced with a choice that I assume every woman in the Night City has to grapple with: Should I pick the stats or should I choose the style? There was no contest, really. Sometimes you just have to take a stand and say "No, I'm not going to pair the purple mini skirt with a Kevlar jacket and this floral veil" before you shoot. Now I'm standing on the streets of the Night City wearing whatever I want. And death a little more as a result. It's more about control than style, really. Maybe you think you can wear a purple mini skirt, Kevlar jacket, and a floral hijab set, more power to you. There might be some people who might question my choice to combine a long golden coat with sparkling green pants and a futuristic mask – you cowards, a lot of you – but it looks perfect for my version of V.
Photo 1 of 5
Photo 2 of 5
Photo 3 of 5
Photo 4 of 5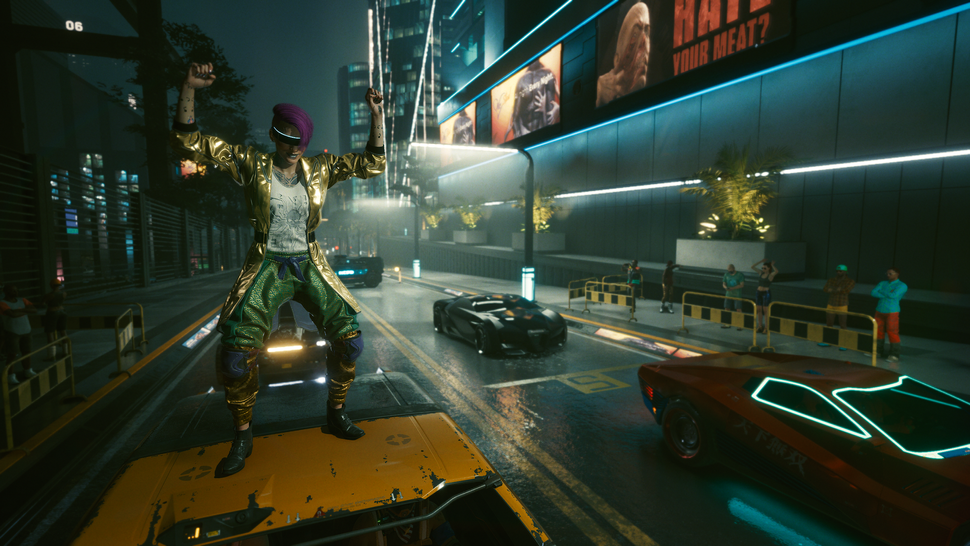 Photo 5 of 5
I now find gear with hundreds of armor ratings, as I wear a jacket that gives me 14 whopping armor, so those bullets definitely made an imprint. But every time I turn on pose or go through the inexplicable process of looking in the mirror, I know I won't hang my head ashamed. I rebel against an authoritarian regime and look good doing it.
Technically speaking, I have more options. I can go shopping, for example. Cyberpunk 2077 has totally taken over the clothes shopping nightmare. I never know what a store is, it's always more expensive than I expected, none of it suits me and the only thing I've been looking for is not there. None of the stores are themed, and their stock appears to be random, or at least not particularly thoughtful. It's weird that it's so bad, because that's something most urban open-world games will hear. GTA, Saints Row, and Watch Dogs make all the brands for their stores with unique stock, so when you want to dress up like the Cyber ​​Goth for example, you know exactly where to go. In Night City, it's a crapshoot. The price.
Crafting is another way you can take back control of your look, thanks to the home-made recipe you got this golden coat. Unfortunately, it only postpones the problem for a week. Very quickly, this designer outfit that used all of your manufacturing materials would be old news. And you have to find the recipes first, which you'll have to rely on in stores, or find them while looting. Crafting materials can also be spent on upgrading items, which looks like a solution until you see how little and how much the upgrade is.
We wouldn't lose anything of value whatsoever if CD Projekt Red completely separated the shield from the clothing, putting it all on plus and perks. For now, it's just like an RPG fluff; It's a place to ditch the less exciting numbers. Assassin's Creed Odyssey has another solution, however, if these arbitrary stats are to be kept. When you find some new outfit, you unlock her look automatically, letting you apply it to what she's wearing. There are no charges, spells, or other preconditions other than having to track down the item first. You earned it, so you should be able to enjoy it. I can't play any RPG right now without feeling sad about effortlessly updating my armor in Odyssey. He destroyed me.
With Odyssey, getting that level of customization was a surprise. But here there appears to be a gap where the cosmetic allocation should have been. There are features you wish you had popped up, but this one that you feel is really missing. Weirdly, there are all these hair and makeup options while creating the character, and ripperdocs that give you completely new ends, but you can't even have a haircut. Given the delays and stories of long crunch periods, the cutting room floor was likely filled with things like that – features that would have fit perfectly, and which everyone was happy to see included. It's hard to imagine CDPR not wanting to give players more control in a V-shape, but for now it is likely to be on the priority list fewer bugs and AI quirks.
So I'll keep dying. Or maybe not. You've recently shelled out loads of vines, and poured more points into the athletics franchises. I have a lot of self-healing, armor, stamina boosting and anything else I need to survive my killing spells. As long as I move on, I can slice everyone with my mantis blades and just need a few puffs of delicious healing vape. I think there is a plus to the gear system being so basic – it eventually becomes irrelevant. Perhaps this is the ultimate goal: to grow your strength so that you don't need armor and you can just wander around any amazing outfit that captures your imagination. The dream of every cyberpunk merchant.